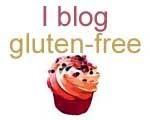 On November 1st, after listening to a very complelling and convincing interview with cardiologist William Davis, MD, and reading his book Wheat Belly, I decided to try a new approach to my daily nutrition by eliminating gluten and wheat from my diet.
4 weeks in and… I feel GREAT!!
Many of the questions I have been asked over the past four weeks are:
Why

did you decide to eat a gluten free diet?
How do you

feel?

Have you noticed any

weight loss

?
Is it

hard

?

What

do you

eat

?
Well, you can read my first blog post, Is Gluten Free for ME? to better understand WHY I decided to start eating a gluten free diet. Lets just say, with a family history of ciliac disease AND many convincing reasons (both scientific and clinical) I have heard and read about, my "gut" feeling was I needed to take gluten out of my diet to SEE if I could FEEL better.
So, how I am feeling? I do feel different, and in a good way. I have noticed that I get better quality sleep (much deeper sleep), and my focus is better. I feel that I am not as puffy under my skin as I maybe was before.  I have had people tell me that I look like I have lost weight; especially in my face. Once I get my scale back into working order, I will report back if I have indeed lost any weight. I only have about 5 lbs to go so…. fingers crossed.
I have never been a bread or pasta fan and so I don't crave it at all.  In that respect, it really hasn't been too hard for me. If I had any bread during my day, it was usually at lunch when I would have a half of a whole wheat sandwich thin, toasted with (natural) peanut butter. Really, it was only a vessel to get the peanut butter into my mouth with a bit of crunch. Most of the snacks that I had in my pantry were already gluten free so I didn't have to make any big changes there either.
I have found that with every food that you currently eat with gluten, there is (probably) a gluten free alternative on the shelf at the grocery store. AND, you may find tastes even better. BUT… please keep in mind. It doesn't mean that they are necessarily a healthier alternative. Many times, they have more fat and calories so beware. Ultimately, you should try to eat whole foods and eliminate processed foods of any kind for complete wellness.
Lastly, people always ask, "so what do you eat for your meals each day?"
Usually for breakfast, I like to have cereal of some kind. I like the crunch in the morning. So, I will have a bowl of Rice Chex topped with flax seed and a side of Greek yogurt. Or, I may have my Greek yogurt with Enjoy life GF granola mixed in. Very tasty either way.
For lunch, I either have a salad, a lettuce wrap or egg whites. For my salad, I use organic baby spinach, hard boiled egg whites, yellow or orange pepper, steamed vegetables (I like them hot in the salad), 2 slices of (cut up) Canadian bacon or chicken strips, some turkey pepperoni mini bites (for spice), artichoke hearts (my favorite) and feta cheese. If I make a lettuce wrap, I will put Dijon mustard, a slice of Canadian bacon, artichoke hearts (again, my favorite), a couple pieces of steamed veggies and role it up. My egg whites I mix with baby spinach and feta with some sliced peppers on the side for crunch.
For dinner, it is a mix of many different things. With 2 kids and a husband to make dinner for, it can get a little tricky but I am finding many different dinner recipes that are GF and tasty. The kids are even enjoying them too. I am a meat and potato girl at heart so our favorite is Venison, cooked on the grill with mashed potatos (we use 0% fat, plain Greek yogurt in them) and veggies of some kind.
My daily snacks are usually some kind of fruit, like an apple with peanut butter (natural), a clementine (in season right now) OR a handful of raw (not roasted) almonds OR a glass of  1/2 unsweentened chocolate almond milk, 1/2 skim milk. As Rachel Ray says, "Yummo!"
I am very interested to hear what you have tried and please feel free to ask more questions. I will be trying new recipes and GF items from the store and reporting back on my blog about how they taste, their cost, etc…